Shipping container history
The Shipping container history - how it all began and how is has grown over the years.
Shipping container history began in the 1900's and reveals an interestiing journey of why they were invented, who invented them and how they have evolved over the years to what they are today - it's such a fasinating story of invention and perserverance. A famous saying states that "necessity is the mother of invention" and nothing rings more true when it comes to the humble shipping container.
We often take many modern inventions for granted without realising how hard things were before they were invented. In the early 1900's, transporting goods across the country, let alone across the world was a very time consuming, labour intensive and expensive process. This process was known as break bulk cargo. The industry needed a revolution!
Skip ahead to today there are over 20 million shipping containers worldwide and at any one time there are over 5 million in transit. Repurposing old shipping containers has become big business – houses, sheds and even offices are now routinely built from shipping containers. If you would like to learn more on the current shipping container industry, click HERE and be amazed.
Take a look around your home or office right now and realise that 90 percent of everything in your house or office has been in a shipping container for up to 3 months at some stage. A fact you may never have realised up until now.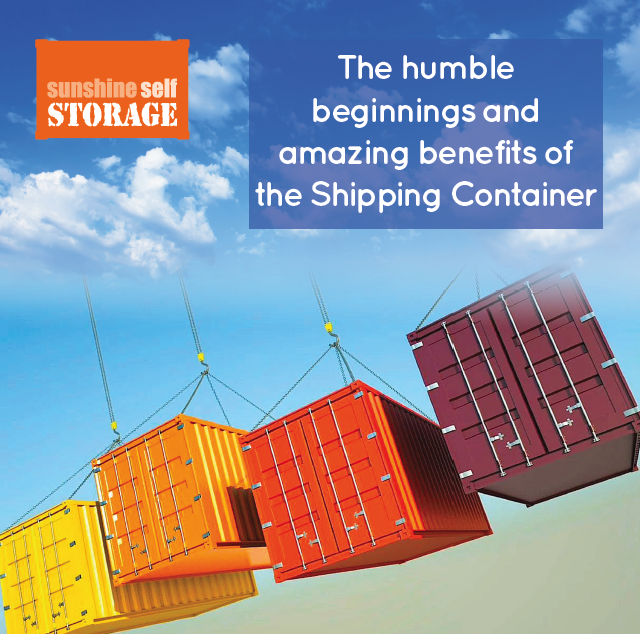 ---
If you would like to know just how much you can fit into a shipping container, click HERE to use our storage calculator or learn more about how big once cubic metre of storage really is HERE. 
This shipping container history document has been developed to provide an insight into the truly amazing world of shipping containers. When you understand the full history of the humble shipping container, you start to realise just how much shipping containers are DESIGNED and built for storage. They are dust proof, vermin proof, waterproof and airtight. Your goods will always stay safe, secure and dry in any of our containers at Sunshine Self Storage. Give us a call or fill out our booking  form to get all of your goods stored safely, securely and conveniently. Did we mention that we offer drive up storage and you don't need to haul your goods upstairs or along small and tiny corridors? Make a booking today!  
Need storage? Click here to book your container now!
---
Convenient, drive-up storage

Sunshine Self Storage uses safe, secure, watertight shipping containers to store your valuables. You can drive right up to
your container and you have access whenever you want.

We are a family-owned business and have the best prices in
Melbourne. You can book space online now, or call our office:


Call Sarah in our office for the
Fastest Response: 03 9010 6147

Ned Coten 0433 136 832 | Hilary Coten 0402 435 143

Click here for a map of our location

Sunshine Self Storage, 15 Carrington Drive, ALBION Melbourne, Victoria, Australia

---
---
Member number 51399 of the Self Storage Association
Sunshine Self Storage is a full member of the Self Storage Association of Australasia (SSAA) and have been since 2004! Our Membership Number is 51399 and our current membership certificate is show below.
You can see all our membership certificates since 2004 here.
The SSAA is the Industry Association for Self Storage in Australia and New Zealand. You should never book self storage with any company that is not a member of this group. The SSAA provides legal protection for storers and self storage owners and ensures that every transaction is fair and equitable. 
---