Shipping Container Sizes
Shipping Container Sizes will help you understand just how much you can store in them.  
Everything you need to know about Shipping Container Sizes and just how much you can store in them. At Sunshine Self Storage, we have 20ft and 40 ft shipping containers that are available to store just about anything imaginable.If you want to more about how amazing shipping containers are, please click here. 
Sometimes when just quoting numbers, it can be hard to work out visually just how much space that really is. Here are the sizes and measurements of all of our shipping containers and some guides to just how much can be stored inside.
A 20 ft shipping container size is
Length: 6.05m
Width: 2.35m
Height: 2.38m
Total Space Available: 33.1 cubic metres  
A 40 ft shipping container size is
Length: 12.19m
Width: 2.35m
Height: 2.38m
Total Space Available: 67.5 cubic metres  
That is A LOT of space! To give you some idea, one cubic metre is one metre in length, one metre in height and one metre in width.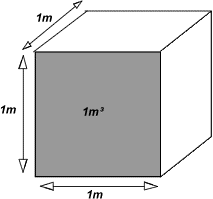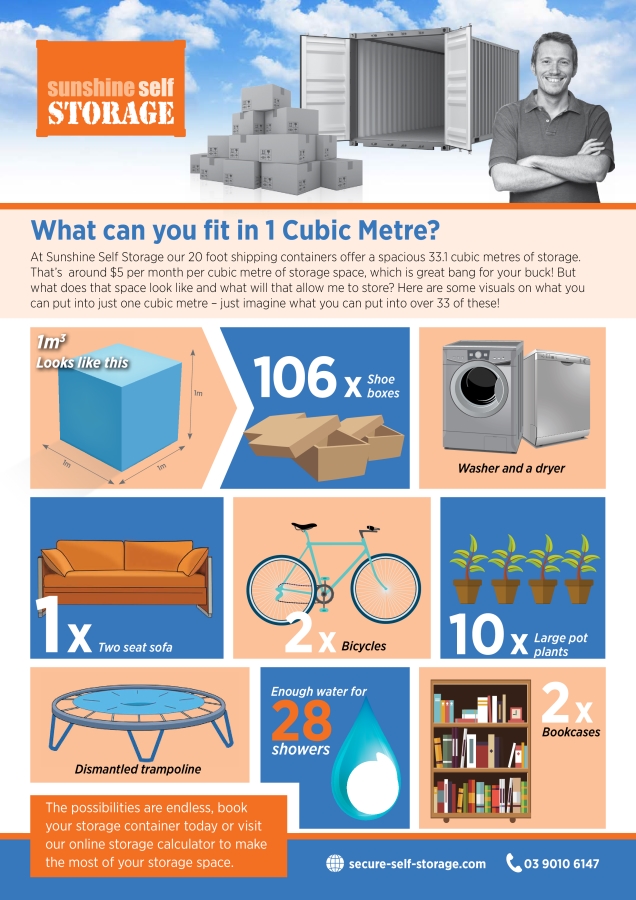 The roof of a shipping container is almost as high as a standard celling in your home so how you stack and organise you processions inside the container is important, there is nothing stopping to you from storing your goods all the way to the roof. As they say, the sky is the limit!
We even have many customer who have stored cars over the years that keeps them out of the elements and avoiding any damage.
To find out exactly how much you can store in a 20 ft Shipping Container, please visit our storage estimator.
Need storage? Click here to book your container now!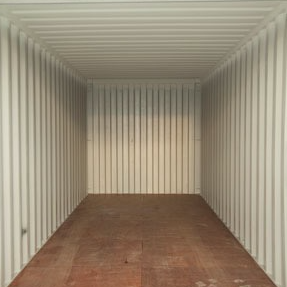 20ft Shipping Containers are a great storage option for
-       2 – 3 bedroom house
-       Sedan or medium sized 4WD.
-       Offsite storage for any business
-       Filling storage for legal purposes
-       Reclaiming you garage or garden shed back
-       Kids toys storage or miscellaneous storage of things or             memorabilia that you just don't want to throw away.
-       Your own hobby garage to store or work on your prized             model train set.
A 40ft shipping container has the same width and the same height, it is just double the length and is more suitable for storing the contents of a larger 3 to 5 bedroom house and is perfect for businesses that need a larger storage space for their business stock or equipment. 
We have more 20ft containers at Sunshine Self Storage so some customers even rent 2 x 20ft containers to organise their things more efficiently than just hiring one 40ft container. There is no difference in price to do this and also allows for downsizing to only one container should the need arise. 
---
Convenient, drive-up storage

Sunshine Self Storage uses safe, secure, watertight shipping containers to store your valuables. You can drive right up to
your container and you have access whenever you want.

We are a family-owned business and have the best prices in
Melbourne. You can book space online now, or call our office:


Call Sarah in our office for the
Fastest Response: 03 9010 6147

Ned Coten 0433 136 832 | Hilary Coten 0402 435 143

Click here for a map of our location

Sunshine Self Storage, 15 Carrington Drive, ALBION Melbourne, Victoria, Australia

---
---
Member number 51399 of the Self Storage Association
Sunshine Self Storage is a full member of the Self Storage Association of Australasia (SSAA) and have been since 2004! Our Membership Number is 51399 and our current membership certificate is show below.
You can see all our membership certificates since 2004 here.
The SSAA is the Industry Association for Self Storage in Australia and New Zealand. You should never book self storage with any company that is not a member of this group. The SSAA provides legal protection for storers and self storage owners and ensures that every transaction is fair and equitable. 
---