Why we use Shipping Containers for self storage
We use shipping containers for self storage (sometimes called "boxes") to store all goods at Sunshine Self Storage. Around 90% of non-bulk cargo worldwide is moved by this method stacked on transport ships.
Over 20 million "boxes" make over 200 million trips per year - most of the items in your house have been in 20' or 40' shipping containers at some stage during their life, often for more than 3 months!

Items such as televisions, clothes, furniture, whitegoods, tools, cars and many more items you buy every day made their way to you in a shipping container. 
Our Shipping containers make great storage. These are located at our facility at 15 Carrington Drive ALBION, Victoria 
Need storage? Click here to book your container now!
Shipping Containers are particularly good for storage for a number of reasons:
They are strong and secure
They are Waterproof
They have thicker steel walls, making them strong and capable of handing bulky, heavy goods easily
Unlike many storage locations, they are dustproof with tight seals around the doors to prevent vermin from entering.
Secure, with both a lock on the door handle, and a special lock box, where you can locate a second lock for the best security
Easily accessible, with both doors able to be opened to ensure larger items can be stored
Ability to drive your car or trailer right into the container if needed!
This method has become a popular way to store many items, including household goods, furniture, books, office records, tools and machinery.
Cars, trailers, motorbikes and vans can be easily stored in shipping containers for long periods of time. Personal effects can also be loaded into the container with the vehicle, which ensures you maximise storage capacity. 
You can store anything in a strong, secure, seaworthy Shipping Container! Click here to book one now and solve your storage problems!
This storage method is also easy to relocate if this is necessary at any stage. Sunshine Self Storage updates units from time to time as this is required. Compared to a building, they are also cheaper to install, so we are able to charge less to our storers for looking after their goods!
---
If you need MORE reasons why shipping containers make an excellent storage solution, why not read and down this document!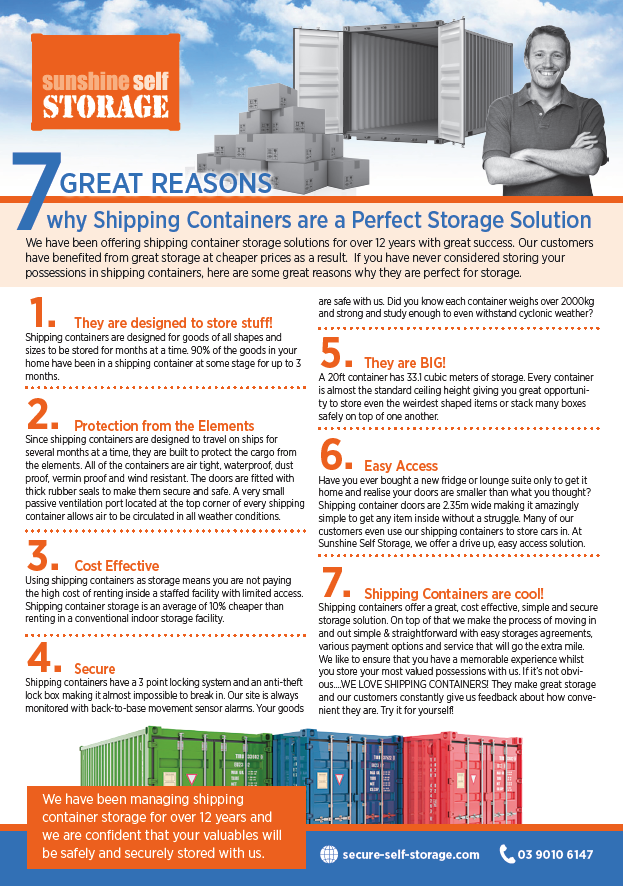 ---
Convenient, drive-up storage

Sunshine Self Storage uses safe, secure, watertight shipping containers to store your valuables. You can drive right up to
your container and you have access whenever you want.

We are a family-owned business and have the best prices in
Melbourne. You can book space online now, or call our office:


Call Sarah in our office for the
Fastest Response: 03 9010 6147

Ned Coten 0433 136 832 | Hilary Coten 0402 435 143

Click here for a map of our location

Sunshine Self Storage, 15 Carrington Drive, ALBION Melbourne, Victoria, Australia

---
---
Member number 51399 of the Self Storage Association
Sunshine Self Storage is a full member of the Self Storage Association of Australasia (SSAA) and have been since 2004! Our Membership Number is 51399 and our current membership certificate is show below.
You can see all our membership certificates since 2004 here.
The SSAA is the Industry Association for Self Storage in Australia and New Zealand. You should never book self storage with any company that is not a member of this group. The SSAA provides legal protection for storers and self storage owners and ensures that every transaction is fair and equitable. 
---