Download our Forms
Here's all the forms you will need to storage with us at Sunshine Self Storage. We have located all our forms together for your convenience.
As always, if you are unsure about any information, just give us a call or email us.
1. Sunshine Self Storage Agreement

This is our Booking Form. This is a standard form developed by the Self Storage Association of Australasia and provides all of the information we require. It also has full terms and conditions for storage.
---
---
3. Sunshine Self Storage Site Plan

All our shipping containers are laid out in number order. This site plan will help you location the position of your container. 
---
4. Sunshine Self Storage - Use of Personal Information

We take great care in protecting the information we get from you as a customer. We are bound by and adhere to the Privacy Act to ensure we keep your details private. The Self Storage Association has developed this form which we ask you to sign when you move in. 
---
5. Sunshine Self Storage Direct Debit Form

You can pay via direct debit from your bank account or via credit card. We also accept payments directly to our bank account. Please fill in this form to arrange payment. Click here to find out exactly how our payment process works. 
---
Need storage? Click here to book your container now!
---
Convenient, drive-up storage

Sunshine Self Storage uses safe, secure, watertight shipping containers to store your valuables. You can drive right up to
your container and you have access whenever you want.

We are a family-owned business and have the best prices in
Melbourne. You can book space online now, or call our office:


Call Sarah in our office for the
Fastest Response: 03 9010 6147

Ned Coten 0433 136 832 | Hilary Coten 0402 435 143

Click here for a map of our location

Sunshine Self Storage, 15 Carrington Drive, ALBION Melbourne, Victoria, Australia

---
---
Member number 51399 of the Self Storage Association
Sunshine Self Storage is a full member of the Self Storage Association of Australasia (SSAA) and have been since 2004! Our Membership Number is 51399 and our current membership certificate is show below.
You can see all our membership certificates since 2004 here.
The SSAA is the Industry Association for Self Storage in Australia and New Zealand. You should never book self storage with any company that is not a member of this group. The SSAA provides legal protection for storers and self storage owners and ensures that every transaction is fair and equitable.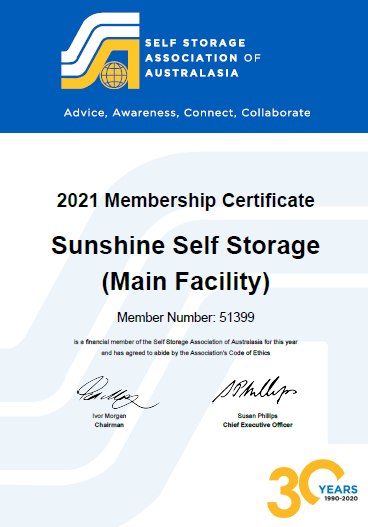 ---