$100 Gift Card Bonus when you book self storage!
Looking for secure, convenient self storage at Melbourne's most competitive rates? Want a special BONUS on top?
Well... you've found us at the right time!
A couple of my customers have moved out at short notice and I need to fill the space. Quickly!
So... for a very limited period (and I mean limited - we only have a couple of spaces available) we are offering a $100 GIFT VOUCHER to the store of your choice - online or 'bricks'n'mortar' - when you book a storage container for 3 months or more.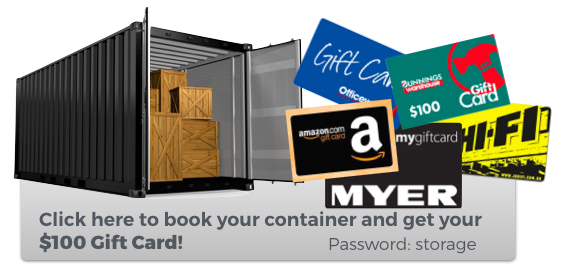 ---
We won't win any awards for looking the best and we don't offer any add-on services. We cover the basics because that's all you need for secure, strong, safe self storage!
We pride ourselves on giving honest service at a very fair price. Our industry costing surveys regularly indicate a price difference of up to 57% between different facilities offering similar sized storage units! Don't get sucked in to paying more for fancy marketing or services you don't need. Make sure you can get what you need at a price you can afford.
Want to find pout more about what you get when you store with us? 
Click here for an overview of what you receive when you store with Sunshine Self Storage.
---
Click here now to go to our $100 Gift Card Bonus Offer BOOKING PAGE
(You'll need this password: storage )
---
Member number 51399 of the Self Storage Association
Sunshine Self Storage is a full member of the Self Storage Association of Australasia (SSAA) and have been since 2004! Our Membership Number is 51399 and our current membership certificate is show below.
You can see all our membership certificates since 2004 here.
The SSAA is the Industry Association for Self Storage in Australia and New Zealand. You should never book self storage with any company that is not a member of this group. The SSAA provides legal protection for storers and self storage owners and ensures that every transaction is fair and equitable.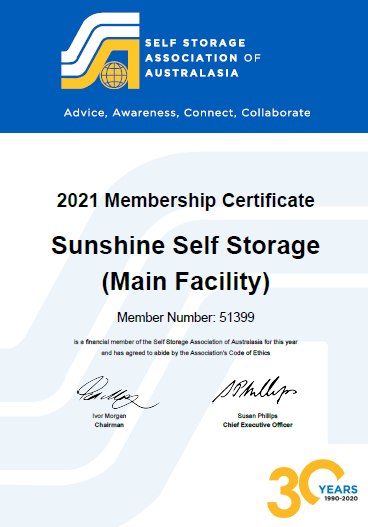 ---