Sunshine Self Storage Insurance
Self storage insurance is important. Sunshine Self Storage takes great care to make sure your goods are safe and in good hands when stored with us, however you may wish to insure your goods against theft or damage. 

Self Storage operators in Australia are legally prevented from offering insurance directly. 
To overcome this issue, we offer insurance through Midland Insurance Brokers, which we recommend that you consider. Midland are experts in self storage insurance are are the preferred supplier of insurance services to the Self Storage Association of Australasia. 
---
Click here to book your insurance now
---
Midland offer excellent insurance coverage that is available to anyone placing their goods in storage. They are used by thousands of storers just like you to protect their goods. 
Hundreds of self storage operators use Midland across Australia and overseas. When you book insurance, we will provide you with two forms from Midland Insurance:
1. Overview of Midlands' self storage insurance, including the costs of insurance coverage. The costs vary depending on the value of the goods that you have in storage. 
2. Terms and Conditions from Midland. This provides a general overview of their coverage. These are fairly standard terms and conditions but you should be familiar with this document if you wish to proceed. 
In order to get insurance cover for your goods, please fill in this form and we will organise the insurance on your behalf. 
You will receive notice of your insurance cover from Midland Insurance Brokers and any subsequent questions on your insurance should be addressed to them. Sunshine Self Storage will assist in whatever manner possible. 
Thanks for trusting Sunshine Self Storage with your goods. We will take the upmost care in looking after your goods. Midland Insurance Brokers meet the same high standard. 
Need storage? Click here to book your container now!
---
Convenient, drive-up storage

Sunshine Self Storage uses safe, secure, watertight shipping containers to store your valuables. You can drive right up to
your container and you have access whenever you want.

We are a family-owned business and have the best prices in
Melbourne. You can book space online now, or call our office:


Call Sarah in our office for the
Fastest Response: 03 9010 6147

Ned Coten 0433 136 832 | Hilary Coten 0402 435 143

Click here for a map of our location

Sunshine Self Storage, 15 Carrington Drive, ALBION Melbourne, Victoria, Australia

---
---
Member number 51399 of the Self Storage Association
Sunshine Self Storage is a full member of the Self Storage Association of Australasia (SSAA) and have been since 2004! Our Membership Number is 51399 and our current membership certificate is show below.
You can see all our membership certificates since 2004 here.
The SSAA is the Industry Association for Self Storage in Australia and New Zealand. You should never book self storage with any company that is not a member of this group. The SSAA provides legal protection for storers and self storage owners and ensures that every transaction is fair and equitable.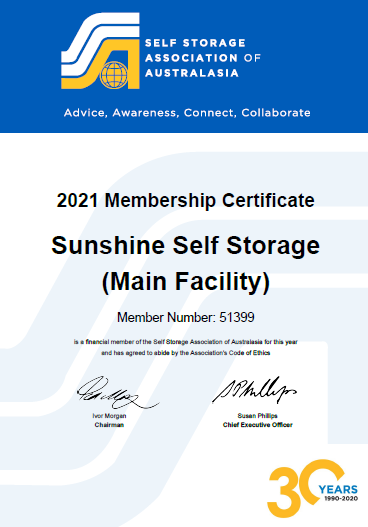 ---