Purchasing a Padlock
Purchasing a padlock and where to place it on your storage container
When purchasing a padlock for your shipping container its important that you purchase the right one. If you have arrived on this page,you have decided to rent a storage container from us and it's time for you to start thinking about purchasing a padlock for the big moving day. 
Just like any product range on the market today there are so many padlocks to choose from and they can start from as little as a couple of dollars all the way up to hundreds of dollars, there are even locks these days that are blue tooth operated that you can simply unlock with an app on your mobile phone.
There are a range of locks that are reccommended for use outside on shipping containers so it is important that you purchase the right one. If you get a lock that is too small or put the lock in the wrong position on your container, you may risk as opportunistic person banging the lock off the container in one sharp hit. Alternatively, if you purchase a lock that is not designed for outdoor use, it may rust and unlocking and locking will be difficult or maybe almost impossible.
Once you have purchased a padlock and its moving day, its also very important that you place the lock in the right position on the container.
Since shipping containers are multi-purpose, there are at least 6 points that you can place your padlock, however the below document will outline the best and most secure places to put the padlock that will minimise the ability for anyone to tamper with the lock, protect it from the weather and offer the most security. Click here or on the document below to download all of the information you need to know. 
Need storage? Click here to book your container now!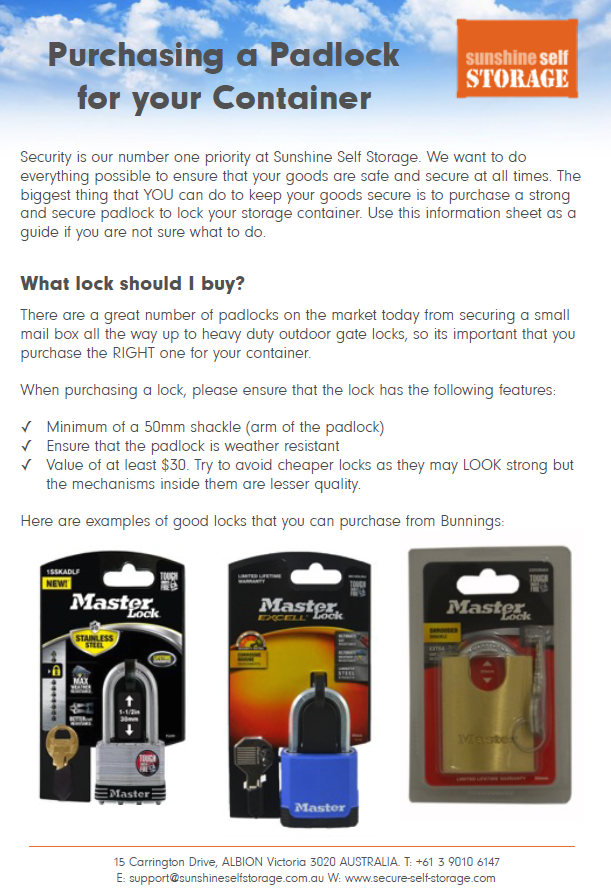 We have made it easy for you. Please take the time to read the document on what type of lock to buy, how much to spend and most importantly where to put the lock on your container. Your local Bunnings store has a great range of locks at reasonable price. Check out a store near you or for your convenience, there is a store located just a couple of kilometres from our storage facility. 
If you have any more questions about purchasing a lock or moving in, please contact our support staff on 03 9010 6147
Click here if you would like to download our free moving checklist to get super organised.
---
Convenient, drive-up storage

Sunshine Self Storage uses safe, secure, watertight shipping containers to store your valuables. You can drive right up to
your container and you have access whenever you want.

We are a family-owned business and have the best prices in
Melbourne. You can book space online now, or call our office:


Call Sarah in our office for the
Fastest Response: 03 9010 6147

Ned Coten 0433 136 832 | Hilary Coten 0402 435 143

Click here for a map of our location

Sunshine Self Storage, 15 Carrington Drive, ALBION Melbourne, Victoria, Australia

---
---
Member number 51399 of the Self Storage Association
Sunshine Self Storage is a full member of the Self Storage Association of Australasia (SSAA) and have been since 2004! Our Membership Number is 51399 and our current membership certificate is show below.
You can see all our membership certificates since 2004 here.
The SSAA is the Industry Association for Self Storage in Australia and New Zealand. You should never book self storage with any company that is not a member of this group. The SSAA provides legal protection for storers and self storage owners and ensures that every transaction is fair and equitable.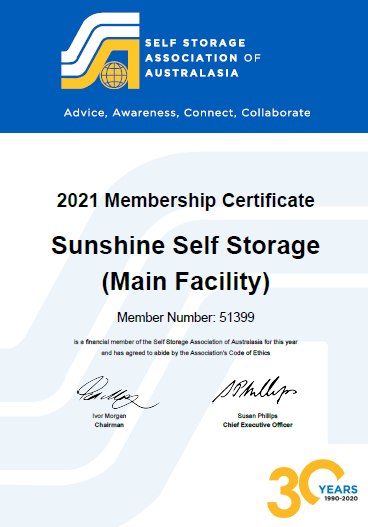 ---