40' shipping container storage
Why 40 foot shipping containers are a perfect storage solution
We have been offering 40 foot shipping container storage solutions for over 12 years with great success.
Our customers have benefitted from great storage at cheaper prices as a result.  If you have never considered storing your possessions in shipping containers, here are some great reasons why they are perfect for storage.
1. Shipping containers are designed to store stuff!
20 foot Shipping containers are designed for goods of all shapes and sizes to be stored for months at a time. 90% of the goods in your home have been in a shipping container at some stage for up to 3 months.
2. Protection from the Elements 
Since shipping containers are designed to travel on ships for several months at a time, they are built to protect the cargo from the elements. All of the containers are air tight, waterproof, dust proof, vermin proof and wind resistant. The doors are fitted with thick rubber seals to make them secure and safe. A very small passive ventilation port located at the top corner of every shipping container allows air to be circulated in all weather conditions.
3. Cost Effective
Using 40' shipping containers as storage means you are not paying the high cost of renting inside a staffed facility with limited access. Shipping container storage is an average of 32% cheaper than renting in a conventional indoor storage facility.
4. Secure
40' Shipping containers have a 3 point locking system and an anti-theft lock box making it almost impossible to break in. Our site is always monitored with back-to-base movement sensor alarms. Your goods are safe with us. Did you know each container weighs over 3000kg and strong and study enough to even withstand cyclonic weather?
5. They are MASSIVE! 
A 40ft container has almost 70 cubic meters of storage. Every container is almost the height of a standard roof giving you great opportunity to store even the weirdest shaped items or stack many boxes safely on top of one another.
6. Easy Access 
Have you ever bought a new fridge or lounge suite only to get it home and realise your doors are smaller than what you thought? Shipping container doors are 2.35m wide making it amazingly simple to get any item inside without struggle. Many of our customers even use our shipping containers to store cars in. At Sunshine Self Storage, we offer a drive up, easy access solution.
7. Shipping Containers are cool! 
40' Shipping containers offer a great, cost effective, simple and secure storage solution. On top of that we make the process of moving in and out simple & straightforward with easy storages agreements, various payment options and service that will go the extra mile. We like to ensure that you have a memorable experience whilst you store your most valued possessions with us. If its not obvious....WE LOVE SHIPPING CONTAINERS! They make great storage and our customers constantly give us feedback about how convenient they are. Try it yourself!
Need storage? Click here to book your container now!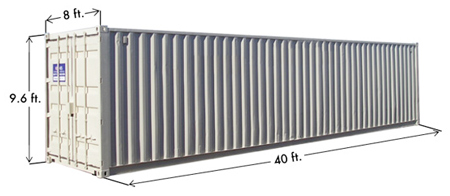 ---
Convenient, drive-up storage

Sunshine Self Storage uses safe, secure, watertight shipping containers to store your valuables. You can drive right up to
your container and you have access whenever you want.

We are a family-owned business and have the best prices in
Melbourne. You can book space online now, or call our office:


Call Sarah in our office for the
Fastest Response: 03 9010 6147

Ned Coten 0433 136 832 | Hilary Coten 0402 435 143

Click here for a map of our location

Sunshine Self Storage, 15 Carrington Drive, ALBION Melbourne, Victoria, Australia

---
---
Member number 51399 of the Self Storage Association
Sunshine Self Storage is a full member of the Self Storage Association of Australasia (SSAA) and have been since 2004! Our Membership Number is 51399 and our current membership certificate is show below.
You can see all our membership certificates since 2004 here.
The SSAA is the Industry Association for Self Storage in Australia and New Zealand. You should never book self storage with any company that is not a member of this group. The SSAA provides legal protection for storers and self storage owners and ensures that every transaction is fair and equitable. 
---